NERVO & Hook N Sling – Reason (Jack Esquire Remix)
NERVO & Hook N Sling – Reason (Jack Esquire Remix)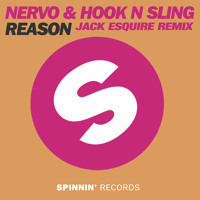 Jack Esquire, the Polish born, UK based DJ and Producer who is currently living in Shanghai in China, has mastered this Progressive House track from NERVO & Hook N Sling. With Jack Esquire being supported by Ministry of Sound and DJing along side names such as Steve Aoki, Gotye, Chuckie and Zane Lowe.
With huge fan base on Soundcloud and Fan Pages, no wonder this guy is reaching thousands of plays on his tracks and sets at big clubs across the world.
Listen, Download and Share –
Posted on February 22, 2013, in DJ's, Producers, MC's, Free Music, Mixtapes and Tunes, Mixtapes and Tunes and tagged #Hook&Sling, #JackEsquire, #Music, #NERVO, #Producer, #ProgressiveHouse, dj, KBPromotions, Remix. Bookmark the permalink. Leave a comment.