Kings of Tomorrow – Finally (itsYasmin Cover)
Kings of Tomorrow – Finally (itsYasmin Cover)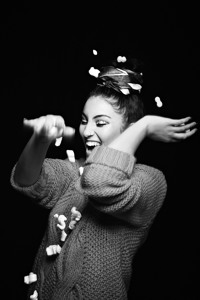 Chillout
Yasmin's had an amazing 2011. In January she released her cult underground single 'On My Own', and the follow-up – the Labrinth-produced 'Finish Line' – hit the Top 15. Now she returns with another production from the legendary drum'n'bass and jungle maestro Shy FX, the old skool, reggae-infused carnival jam 'Light Up (The World)' featuring Ms Dynamite, which is due for release on 15th January 2012.
Yasmin first appeared on the scene when she was spotted by none other than Pharrell Williams during one of her DJ sets, and that soon led to studio sessions with Labrinth (Tinie Tempah), Future Cut (Lily Allen, Devlin) and Shy FX (Dizzee Rascal), with whom she has collaborated on her debut album, due in summer 2012.
After this auspicious start, Yasmin fast became one of the hottest names on the scene and after a series of packed festival performances this summer at home and in the Balearics plus supporting No.1 artist Example at the iTunes Festival – where she premiered 'Light Up (The World)' – she has also supported Big Boi, Aloe Blacc and Snoop Dogg and went on to notch up a MOBO nomination for Best Newcomer at the 2011 awards as well as presenting an award on the night and performing at the launch party.
This year Yasmin has also been in the studio with Jamie Smith – producer and remixer of groundbreaking and Mercury music prize-winning band The XX – and the twosome DJed back to back at the underground Young Turks night at The Boiler Room earlier this year where they performed a version of a track they had worked on together, a cover of the massive dance classic 'Touch Me' by Rui De Silva. The metallic beat remix of the track coupled with Yasmin's ethereal vocals have made it a massive hit on Hype Machine. Yasmin has also been working with some of the biggest names in music production in the US including Diplo (MIA, Kanye West) and The Smeezingtons (B.o.B, Kid Cudi, Bruno Mars).